Specialty products for individuals. We take great pleasure in working on projects that are not just for businesses, but also for those sharing special moments with loved ones!! ProFiles Digital Media offers a one hour free consultation to discuss unique ideas to personalize occasions such as Weddings, birthday celebrations, anniversaries, baptisms and so much more. One of a kind treasures are created and cherished moments captured in various forms of media.
For example, our wedding products and services guarantee a custom theme from invitations, programs, favors, thank you scrolls, photo manipulation and even to a final wedding website!! What a great way to share your special day with those who were unabled to attend….anywhere in the world!! Missed photo opportunities need not be an issue. Mom and Dad missed a photo together? We can make one for you!!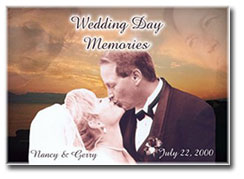 Contact us
today about truly unique products such as invitations, custom thank you cards, placemats, t-shirts and any gift idea involving custom graphics. New dad?
Ask
about our great new Father's Day gift idea!!